This year's edition of Audio Farm festival features more performing artists from the LGBTQ+ community than ever before. We're excited to celebrate queer culture throughout the weekend from an array of artists showcasing dance, music and creativity. Read on to find out more about some of the wonderful talent that you can catch when September on the farm rolls around.
House Of Apex
House of Apex is a new and upcoming Kiki-Vogue house based in Manchester. A diverse and multi-faceted house made up of six individuals, all who have taken on the names of their favourite apex predator. Wolf, Lion, Hyena, Lynx, Arctic Fox, Golden Eagle. Each member brings their own unique talent to the pack, from self-taught voguers and stage seasoned performers, to technically trained dancers, dance teachers, and even a gold medal gymnast and coach. You can expect to see a spectacular display of spins and dips, hypnotic hands and arm control, fabulous floor performances, dynamic duck-walks and crazy catwalk when they touch down at Audio Farm 2022.
High Hoops/Ellen Allien
Another takeover which returns to Audio Farm in 2022 is High Hoops. This time they've enlisted the help of Berlin's finest Ellen Allien. Having burst onto the scene 30 years ago, Ellen has been a staple in the world of electronic music, most notably the more electro twinged sounds of techno. Having founded the BPitch control label back in 1999, the imprint has been home to some of the most recognisable and legendary techno and experimental track of the past few decades. Also featuring as part of the takeover will be the resident from Hoops crew. Providing smooth, silky and sexy selections from the worlds of garage, italo, house and breaks.
Alba Heidari + Annabel Arroyo (FOLD)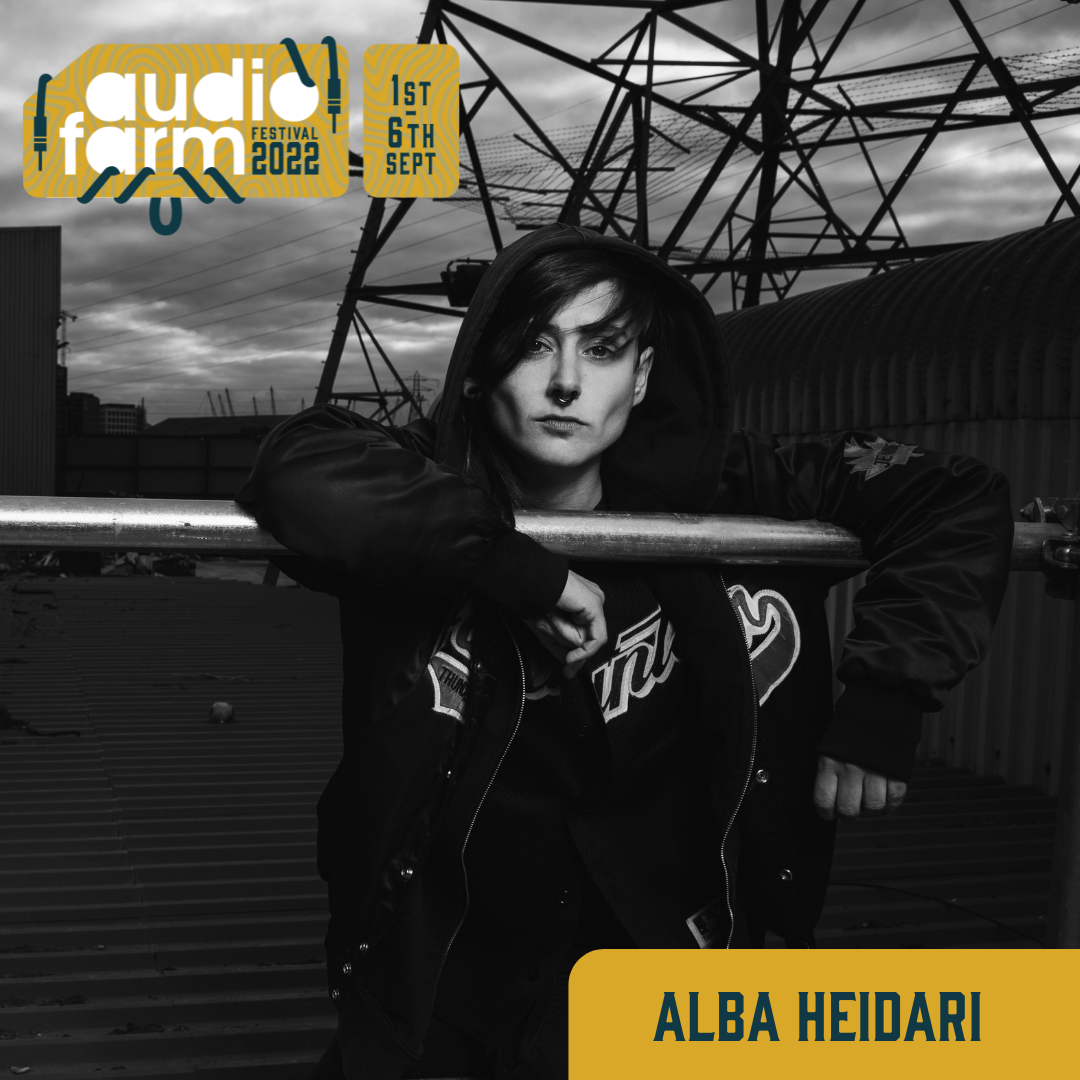 Two of the most exciting names and slowly becoming some of the most sought after DJs in the scene Alba Heidari + Annabel Arroyo will be featuring as part of London's techno fortress FOLD's takeover at this years festival. With both artists initially plying their trade in Spain, they now both reside in the capital. Heidari draws influence drum n bass, breaks, hardcore, hardtek, electro, and even gothic industrial, she defined her technical prowess and discovered the raw industrial techno that pulls together her versatile sound. And with Arroyo providing sophisticated transitions and catchy, groove-infused sound that lingers in the minds of crowds long after the music has stopped; it's a match made in heaven.
Strutty
From London to Manchester and then all the way to you at Hopton Court, Strutty Bitch is the alter ego without the ego. Having caused a raucous at last years Audio Farm festival with a out this world, out of the box out on the town performance that shocked the crowd in more ways than one we had to invite them back officially to bring their queer energetic, all singing all dancing performances over the weekend in September. Expect Shape Throwing, Girating, drops, bops and all the inbetween sexy bits you expect from the one and only Strutty Bitch.
Jamie Bull (Homoelectric)
Homoelectric once again are set to be a part of the Audio Farm lineup this year; bringing their legendary party starting status with them, as well as heaps of energy providing otherworldly sounds from the worlds of house & disco. Jamie Bull from the crew features once again and we're feeling super privileged for their involvement. Once a resident at Leeds' Speed Queen parties, Jamie gained a reputation as one of the unsung heroes of the UK disco scene, due to his consistently show stopping DJ sets across the country. Expect to move your body from start to finish when they jump behind the ones and twos for the Homoelectric takeover.
passer
DIY party starters Queer House Party have been host to some of the finest, most exciting accessible but radical showcases of queer culture in London in the past handful of years. One of the brains behind the business is passer, Brighton based creative, DJ, radio host and curator and sound technician to boot. Their work prides itself on activism and fighting fascism often all at the same time as providing an unforgettable queer party experience. An array of sounds will be heard when they make their Audio Farm debut so expect the very best of garage and breaks, global club, house and techno.